Transportation Management Software
Reveal truly understands what it takes to manage even the most intricate aspects of a transit operation. Every transit system is different; our intuitive transportation management software platform is tailored to each agency's individual workflows and needs and configured to deliver the most efficient and cost-effective transit system possible.
From taking a reservation, to scheduling a trip in Workflow, to dispatching trips in real-time based on up-to-the-minute trip and route performance, Reveal is an easy-to-use platform that manages every aspect of a transit system. Plus, with specific tools to optimize run-cuts, develop ideal driver bids, and equip staff with data to make the best business decisions possible, no other transit technology platform allows for better operational performance.
Find out how our applications can help you reduce costs, increase productivity, and improve passenger satisfaction with solutions that make transit simple.
Demand Response System
Improve Efficiencies and Customer Service
Reveal's Demand Response System is one-of-a-kind, and was developed with the overwhelming challenge of providing more with less--a challenge that transit agencies face each day. We understand what it takes to manage a transit operation. Reveal prefers to be proactive in our thinking and management capabilities, and has developed the management tools every agency needs in order to proactively and proficiently manage costly expenses. We simply provide the tools that solve transportation problems. We're also excited to offer transit agencies technology to help manage the latest transit trend: micro transit. Our platform can help manage niche micro transit projects with app-based efficiency and transparency.
Key Features
Rider Registration
Scheduling
Mapping and Geo-Coding that Interacts with Google Maps
Dispatch
Comprehensive Reports and Dashboards
Workflow
Automate your processes and workflows
Through Workflow automation, Reveal establishes daily routines that allow transit agency staff—from schedulers to operators to quality assurance—to successfully perform their duties. Workflow is built into each job function to ensure data integrity, and includes the ability to track the status of a task from start to finish. Each task has a defined flow from one staff member to the next, enhancing each employee's productivity and allowing the agency as a whole to more efficiently enforce how work is handled.
How does Workflow impact the way jobs are done?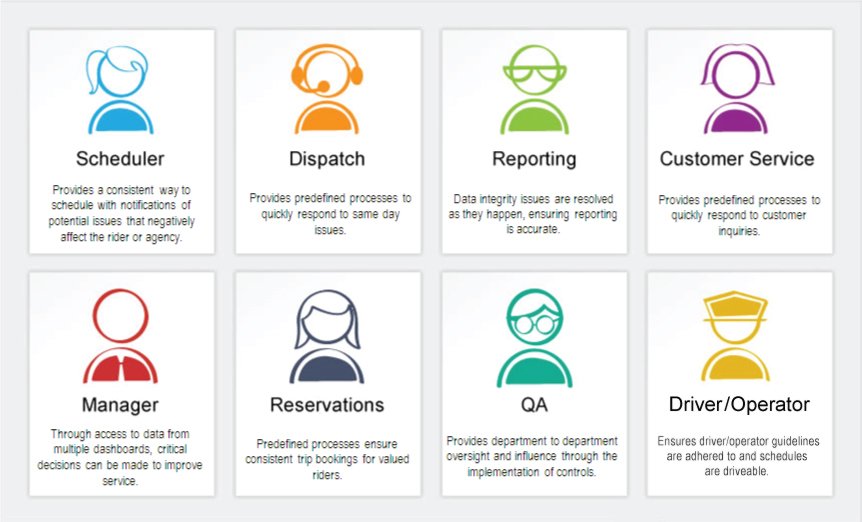 Driver Bids
Control costs with efficiently managed bids
Reveal's interactive driver bid application ensures accurate bids, controls costs, and allows agencies to easily review what work has been compiled for each time of year, as well as holiday schedules. The driver bid application interfaces with the run cutter application to ensure all runs are accounted for when compiling bid information.
Fixed Route
Improving fixed route operations
Using tools that simplify complex tasks such as trip building, run-cutting, blocking, and creating driver bids, our fixed route transit scheduling solutions improve the overall scheduling process. Schedulers can take advantage of having greater flexibility and control when creating schedules, using the interactive scheduling tool to decrease the time it takes to create schedules, reduce mistakes, and improve route and driver efficiency.
Reveal's fixed route tools also track the location of each vehicle in real time and proactively communicate with dispatchers. Using GPS coordinates, Reveal automatically determines if routes are running late, providing immediate notification to dispatchers. Additionally, through passenger-facing mobile apps that utilize the same location data, passengers are able to check on the location of their bus to quickly determine an accurate estimated time of arrival (ETA).
Payroll
Keep your overhead under control
With intelligent payroll tools that enable transit agencies to manage driver data more effectively, Reveal can help control payroll costs. Through our Payroll application, agencies can establish driver information and schedules, manage the process of clocking in and out, and interface accurate driver hours to the agency's payroll program. Inclusive of a dashboard that monitors driver clock-ins and routes running behind due to late clock-ins, our Payroll applications allows dispatchers to make the best decisions for excellent route performance.
Run Cutter
Optimize your operations at all times
The run-cut application analyzes historical trip information, as well as vehicles deployed in service. The application provides the user with the information necessary based on passenger trip performance, trip adherence, passenger no shows, and cancellations to develop quality run cuts that optimize vehicle deployment, reduce excess vehicle capacity, improve on-time performance during peak times, and reduce unnecessary dwell and slack time within routes.